Clean, Comfortable, Convenient, and Charming
Thank you for your interest in the Holiday Motel, the most unique place to stay and play in Door County!  Built in 1952, the Holiday is Door's first-ever motel.  Renovated in 2008 using environmentally-friendly building materials and practices, we offer our guests a clean, comfortable place to stay with retro charm and modern amenities.  Steps from the bay and the city's finest shops, restaurants, and night life, the Holiday is the place to stay in the heart of historic downtown Sturgeon Bay.  We take great pride in going the extra mile for our guests, and our competitive rates, fantastic location, delicious complementary continental breakfast, free parking, and picnic and campfire area make the Holiday one of the peninsula's very best values.

Our attention to detail ensures that your room is always cleaned to the highest of industry standards.  Brand new carpeting, wildly comfortable mattresses, plush linens, luxurious hypoallergenic polyfill and down pillows, lounge chairs, over 70 premium cable channels on flat-screen televisions, full four-piece bathrooms, and retro print blackout drapes over Southern-facing windows that actually open to let in sunlight and bay breezes lend our rooms unbeatable comfort.  They're convenient, too, with refrigerator/freezer combos in each room, free local calls from your room phone, radio alarm clocks, writing desks, visitor guides, and, in certain rooms, coffee pots and microwaves.  But cleanliness, comfort, and convenience only go so far without charm, so our friendly and sunny motel features original 1950s furniture and tiling, paintings and glass fixtures donated by local artists, great music playing in our public spaces, a cozy lobby where guests can pass the time with one of the many books, magazines, or instruments we have on hand, and a quaint little diner with seating and a coffee pot, microwave, toaster, refrigerator/freezer, and dishes and silverware all available for guest use 24/7.   
 
See what's nearby...
TOUR
OUR
NEIGHBORHOOD!
Click HERE for a printable walk-around map of our immediate
surroundings, along with detailed information about
neighborhood bars, restaurants, and MORE.
A Commitment to Growing Community Through Art
 Aside from our service as Sturgeon Bay's premier motel, the Holiday is also an integral fixture of the local music scene.  From our weekly open mic to our house concerts and songwriters' retreats, the Holiday often plays host to live performances by incredibly talented artists from around the world.  Musicians often stay in our guest rooms while writing and recording music in our on-site recording studio with the Holiday's in-house Grammy-nominated sound engineer.  All in all, thousands of songs have been written, recorded, and mastered at the Holiday Motel.  The works of local fine artists are showcased on our walls, and our events utilize the arts as a medium by which we are able to connect visitors to and members of our community.  
 The Holiday Motel was the first motel in Door County.  Built in the Cubist Modern (or Modern International) design, it opened its doors on Saturday, May 31, 1952.  The motel was designed and owned by William Paul, owner of the local supper club the Nautical Inn, and his business partner Myron Krueger.  According to newspaper reports of the time, the two emphasized the "modern" detail and amenities when listing such items as a ventilated phone booth just for the business traveler's calling convenience, the fire-proof and chip-proof Simmons furnishings, the glass-block windows, photo-mirrors, tile bathrooms, theatre-lit hallways and stairs, and white stucco and cement block construction - the newest methods of the day.  

The builder used the post Motor Court style popular at a time in American travel history when guest room views onto the on-site private parking was a major attraction to travelers.  In the early part of the twentieth century, there were few choices for travelers - most stayed at camp ground, cottage courts, or tourist homes.  Business was good, and a year later, the Holiday Diner was added to serve a full breakfast menu.  

Interestingly, the Holiday Inn chain (unaffiliated with the Holiday Motel) was launched only three months later in Memphis with the promise of properties that were standardized, clean, predictable, family-friendly, and readily accessible to road travelers.  Named jokingly by its architect in reference to the popular Bing Crosby movie, there were 50 Holiday Inns across the country by 1958.  


OUR ICONIC NEON SIGN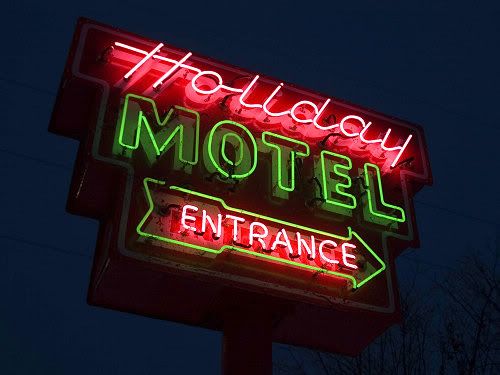 Our sign is the motel's original sign.  Though the Sturgeon Bay's sign code typically does not allow neon, our sign was grandfathered in for its historic relevance.  The metal box neon sign was perfected during the 1950s and became the standard in roadside business advertising until the 1960s.  This period of dynamic, roadside flamboyance mirrored the exuberance of the postwar era.  Metal box signs were constructed with brightly-colored porcelain-enameled panels trimmed in neon tubing and often animated with moving parts for vivid, hard to ignore displays day or night.  




 The Holiday Motel was purchased in May 2007 by Holiday Motel Management, LLC, a group of musicians and music enthusiasts.  This group came together while working on Steel Bridge Songfest (SBSF), an original music festival designed to celebrate and raise awareness for the preservation of the historic Michigan Street Bridge. Efforts were successful and the bridge was saved and re-opened for good in the summer of 2011. The motel sits at the bridge's approach.  

Singer/songwriter pat mAcdonald (co-founder of SBSF) organized a songwriting workshop in 2006 called The Construction Zone, which took place for the first time in conjunction with that year's festival.  The Holiday Motel (owned and operated at that time by fellow "bridge lovers" Pete and Marilyn DeVaney) was used as headquarters for the event.  Twenty-five songwriters were invited to stay at the motel and write songs in collaboration.  A recording studio was installed in one of the rooms, and some 60 original songs were written and recorded at the motel.  One of the current owners, Anna Sacks, was among those songwriters.  She was so inspired by the event, she commented to pat that she wished they could just buy a motel and continue the collaboration year-round.  pat pointed out that the Holiday Motel was for sale.  

Friends began to tell friends, and soon a collection of like-minded people banded together to buy the motel.  One of the owners is noted Rock and Roll Hall of Famer Jackson Browne, who has appeared for many years at the Steel Bridge Songfest and has performed two intimate house concerts right in the motel's on-site recording studio/concert space.

The second Construction Zone was held at the Holiday Motel from June 7th-16th, 2007, and another 60-some songs were composed and recorded.  A compilation CD from the first year's workshop was issued and debuted at the festival.  Subsequent songwriting events were scheduled for fall and winter 2007, but that was not to be.  

An electrical fire on August 5, 2007, did extensive damage to the motel and forced it to close for repairs for 22 months.  Seeming initially like a staggering blow to the fledgling venture, the blaze and subsequent reconstruction required that improvements originally planned for a phased development be made in an accelerated time frame.  The owners also opted to take the opportunity to invest in additional upgrades.  The renovation proceeded with three goals in mind:
Going green
Preserving the historic integrity and classic 50s decor of the building
Enhancing the motel's recording capabilities
The fire turned out to be a blessing in disguise.  Now fully renovated, the motel features new wiring, enabling digital connection potential to the recording studio from each guest room, brand new roof trusses, additional insulation between floors, sound treated rooms (we used a green, recycled product), a new ultra-efficient HVAC heating and cooling system for the guest rooms and public spaces, lobby and reception area improvements, brand new carpeting and drapery, and more.  We were even able to clean and reinstall our original 1950s Simmons furniture, and restore much of our original tile.  Anything that could be saved was saved. The only major change was the removal of a wall in the lobby entryway which makes the space much more open and inviting.

The Holiday is campaigning to get the motel listed on the National Register of Historic Places and is pursuing LEED certification for the green efforts used in the remodeling.  Exciting new ideas are being conceived and implemented daily to further the motel's legacy of creative collaboration.

Local artists and some Construction Zone participants are contributing to the interior design.  Glass fixtures were donated by local artisans Popelka Trenchard Glass, and Jane Wiedlin of The Go-Go's, a talented interior decorator and 1950s enthusiast, was first to get on board, and will one day design a featured guest room.  Several other custom-designed rooms are being planned for the future.

Lastly, it should not be forgotten that The Holiday resumed as the song-writing headquarters for Steel Bridge SongFest in 2009 and is now entering their 8th year of the festival (Beach Harbor Resort graciously hosted the song-writing portion of the event in 2008). Other events have since sprung up as a result of the popularity of SBSF and The Holiday Music Motel now also plays host to two other events taking place around Halloween ('Dark Songs') and Valentine's Day' (Love On Holiday') in addition to their weekly live original open mic (WRiTERS NiGHT) and regularly scheduled house concerts.