Dark Songs 2020

Livestreaming on Facebook
(will post to YouTube at later date)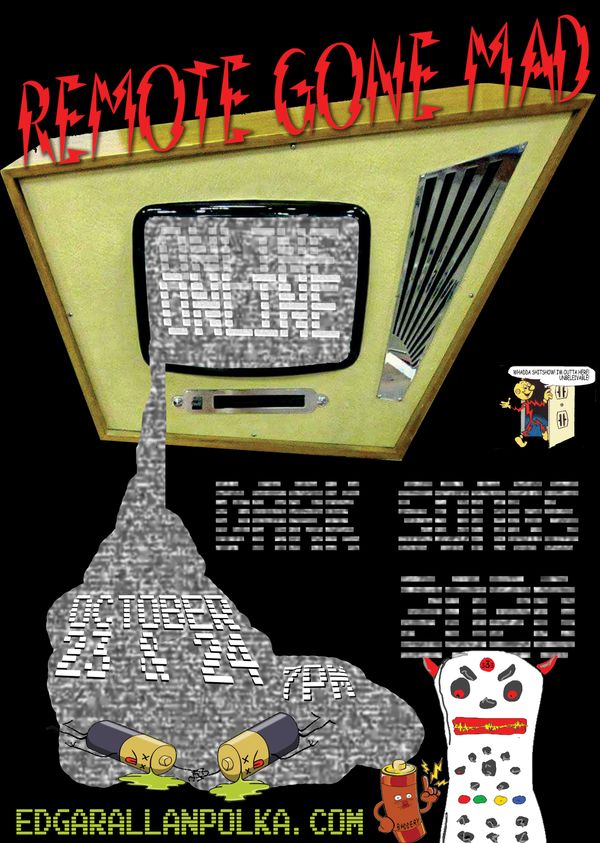 REMOTE GONE MAD
Your media bubble has burst – the remote has taken control of your screen. And the remote has gone mad. 
A war between good and evil rages on screen. Struggling in vain to regain some semblance of control, we gaze dumbfounded into an electrical hodgepodge of rude interruptions and jarring juxtapositions making only one thing clear: the whole control interface is fucked. (Sound familiar?)
Like spirits trapped in grandma's attic, strange networks emerge from the static. One station haunted, one waiting on a train from shamelessly commercial to downright insane, eternal infernal infomercials scream a recurring theme: "A Hundred Halloween Hits!"
Where is all this chaos coming from? Is this the dark web? 
We'll see... 
Or will we?
Streaming to a device near you, Friday and Saturday October 23 and 24 at 7pm.
Follow the event on Facebook & stay tuned for more information!!!
Willing Participants
Andrea Wittgens
Barrett Tasky
Ben Spatol
Bruce Butkovich
Bruce Reaves
Carley Baer
Cathy Grier
Charles Boheme
Claire Kelly
Danielle French
DanO Stoffels
Eleanor Knippel
Ellie Maybe
Emily Zimmer
Eric McFadden
Eric "Wobbles" Rowe
Genevieve Heyward
Gervis Myles
Granville Mullings
Greg Roteik
Jack Maher
James Hall
Jimm McIver
Joe Golemb
Josh Harty
Kate Vargas
Lillie Lemon
Lily DeTaeye
Liv Mueller
Loren Tee
Marja Hansen
Patrick Kelly
Sam Lyons
Steve Smith
Teflon
Victoria Vox
Vincent Gates
Wally Ingram
Wammo
Wasted Pretty
Wyatt Glave
Zach Roach
Zach Vogel
and many special guest appearances!!!!