Love On Holiday 2017, Feb 10th and 11th at Third Avenue Playhouse!!
More info coming soon!!!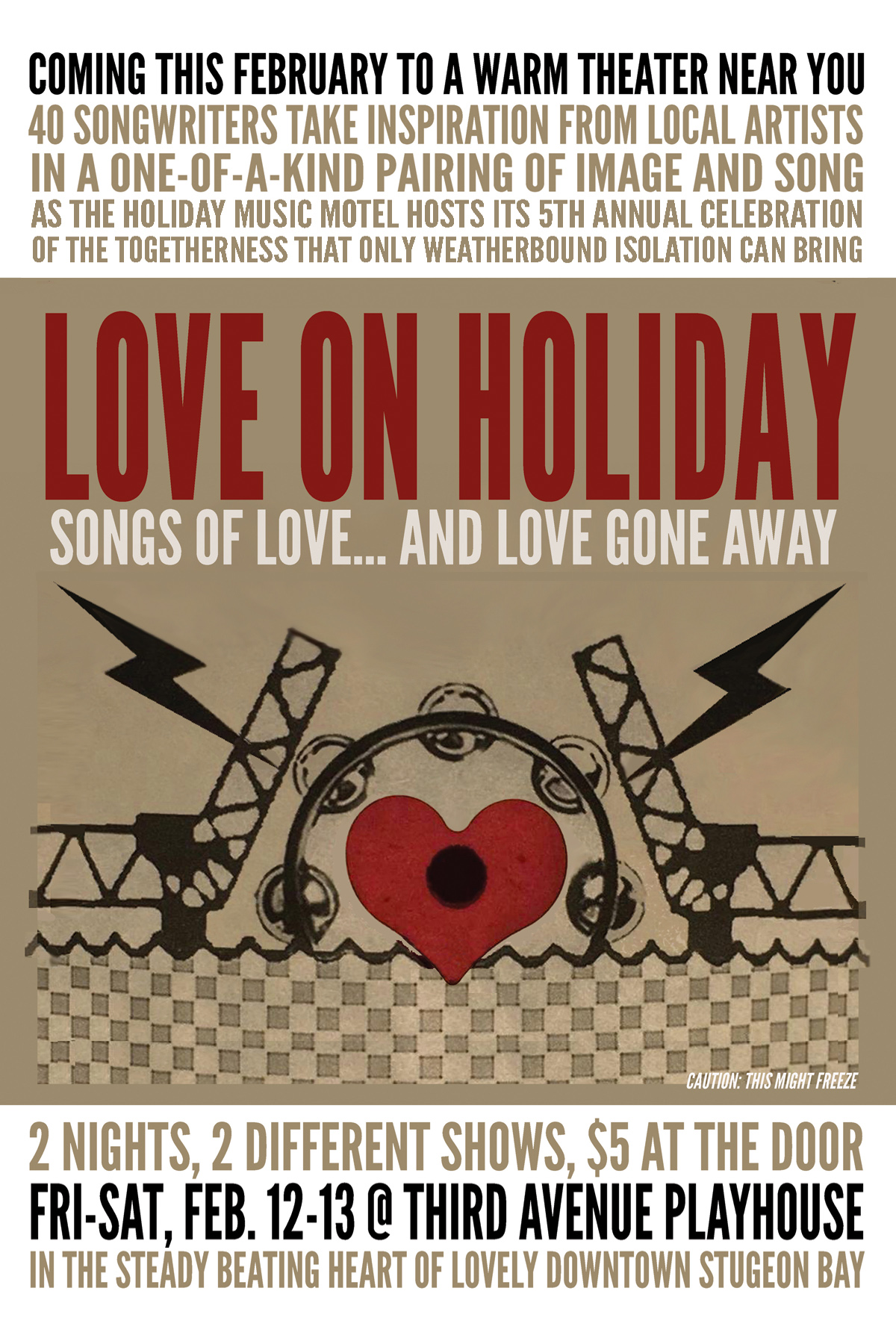 Our
5th 
Annual               
Love
on
H
oliday
...
February 12 & 13,
 2016
Confirmed artists for LOH 2016:
Adria Ramos
Alex Wilson
Andrea Wittgens
Anna Jo
Barrett Tasky
Bruce Butkovich
Carley Baer
Greg Roteik
Holly Olm
James Hall
Jenny Bienemann
Jerod Kaszynski
Jimm McIver
Lily Taylor
Liv Mueller
Matt Spatol
melaniejane
Mike Bleck
Morgan Rae
Nici Peper
Nick Hoover
pat mAcdonald
Patrick Kelly
Robin Bienemann
Steve Hamilton
Tarl Knight
Teve Mith
Tony Menzer
Vincent Gates
Wade Coisman
Walter Parks
A live
musical valentine
serenading the season's unholy threesome
of Adoration, Angst, and Ambivalence 
This mid-February songwriting, recording, and performance week
features artists from near and far
who converge upon The Holiday for this song-quest love-fest
designed to wind winter's chill down to goosebump and grind.
As part of the week-long collaborative songwriting marathon,
LOVE ON HOLIDAY 2016 will bring an injection of visual arts to the mix.
Images submitted by local artists will inspire new songs
and later be juxtaposed with live performances.

Each of the two Third Avenue Playhouse shows (Friday-Saturday, Feb 12-13), 7:30pm
will be part concert, part art exhibition.

A lovely, fun way to bring together the music and art communities of Sturgeon Bay!

All proceeds ($5 at the door) will benefit The Tambourine Collaboratory.

Friday February 12th and Saturday 13th, 2016.
Opening reception 7pm, show time 7:30.